Foundation Repair Services and Solutions
Available, Efficient, and Timely
We Provide a Variety of Foundation Repair Services
At Boulder Ridge Land Clearing and Excavation, we offer foundation repair services that are cost-effective options that are also high quality – they work. Whether you need to fix problems with the structure of a single-family home or a commercial building with multiple floors, you can count on our innovative foundation repair systems, which are guaranteed to last for years.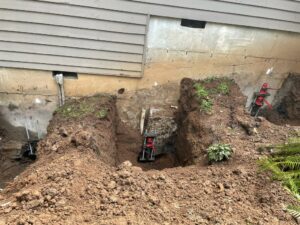 Our well-trained team is happy to offer foundation repair services to homeowners and business owners because each team member has plenty of skills and experience in that area. We offer a permanent fix for problems with shallow and deep foundations that are caused by poor site preparation, poor soil conditions, changes in the weather, bad drainage, hydrostatic plumbing problems, flooding, age-related settlement, and other things. There are different ways to fix foundations that work for both light-load and heavy-load areas. Boulder Ridge Land Clearing and Excavation will find out what the real problems are before deciding on the best way to fix them.
Assessing The Factors of Foundation Systems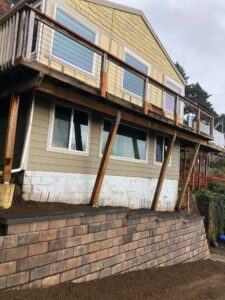 When fixing a foundation that is sinking, there are many things to think about. Contact Bolder Ridge to get a good look at your home or business. We have access to the most advanced services and technologies for support beam replacement and foundation repair that can fix any structure's settled foundations for good. Work with a trusted foundation repair business that backs its work with the correct skills and experience to avoid expensive renovations and demolitions in the future.
Not sure what kind of repair you need for your foundation? Don't worry; you can count on us to help. We give free, no-obligation estimates for foundation repair. Get in touch with us right away to set up an appointment with Boulder Ridge Land Clearing and Excavation. 
Who We Serve in the Northwest
We do full foundation repairs for many different kinds of Oregon customers.  
We have used what we know to help with cracks and repairs:
Builders: We help contractors and builders with remodeling, renovation, and new building projects. We know everything there is to know about the building process and foundation repair services. This lets us be true partners with these companies and make sure their projects are done on time and on budget.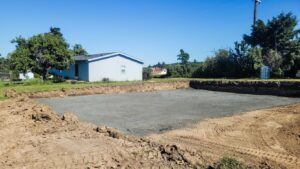 Commercial Businesses: Commercial property owners and businesses know they can count on us to do the job right, whether it's putting in helical anchors, grouting, adding carbon fiber reinforcements, or completing any other new construction foundation stabilization. Because of what we can do, we can save our customers a lot of money by fixing foundation problems before they get worse.
Homeowners: water getting into crawlspaces, cracked basement walls, and floors that aren't level can cause our residential clients a lot of trouble. So many people come to us because we can help them find the best way to fix their foundations. Whether they need help with footer stabilization, fixing basement walls, retaining walls, or concrete slabs that are sinking, we have the experience and skills to fix their problems so they can feel at home again.
Contact Boulder Ridge Land Clearing and Excavation today to find out more about how our foundation repairs services can help you.
Beam / Support Replacement
New Construction Foundation Stabilization
We Stop Costly Overgrowth In It's Tracks