Lot and Land Clearing Services
Available, Efficient, and Timely Lot Services
We Provide a Variety of Land Clearing and Lot Clearing Services in Oregon
Our land clearing services are tailored to give you the best results possible, and the fact that all our services work well together means that we can meet the needs of both residential and commercial customers for site management and maintenance.
Whether you need a small residential garden landscaped or a large-scale commercial site cleared, our team of highly experienced professionals can handle any job, no matter how big or small. They have a lot of experience and are always professional. No matter what kind of commercial land clearing services you need, we are the company to call. Our attention to detail and commitment to always giving our customers a first-class service sets us apart from other site clearance contractors.
Do you need to clean up a site, lot or piece of land?
 Boulder Ridge Land Clearing and Excavation has both professional experience and a strong work ethic.
We know that time is money and that you don't want to have to wait for your site to be cleaned up before work can start. We'll give you land clearing services that are quick and done well by a local team you can trust.
Clearing a site is usually done to make room for new buildings or to clean up a piece of land. This can include cutting down trees, grinding down tree stumps, and getting rid of bushes so that the site is clear and ready for the next step of building.
Are you going to start building something on a piece of land? Leave the hard work to the experts when it comes to land clearing services. We provide brush mulching and mowing services so you can get to work in a timely manner. Boulder Ridge Site Clearing and Excavation has been clearing commercial sites for a long time. We have a lot of experience and the right equipment to handle most requests.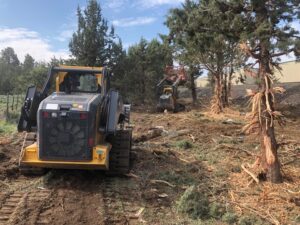 Whether you just moved into a new home and the land there is hard to take care of, or you want to clear an area for fire prevention or access to another area, you don't have to look any further for a service you can trust to do the job, no matter how much foliage there is.
Clearing land on your site or property can seem like a big job, and you'll probably want to leave this job to a professional land clearance services company. At Boulder Ridge Land Clearing and Excavation, we are the best choice for clearing land and sites because we have the skills, tools, and experience to do any job perfectly.
With our professional land clearing services, we can handle any job you send our way. Our site clearance team has a lot of experience working with residents, property companies, local landowners, and other types of clients. Contact us today to find out more.
We Stop Costly Overgrowth In It's Tracks